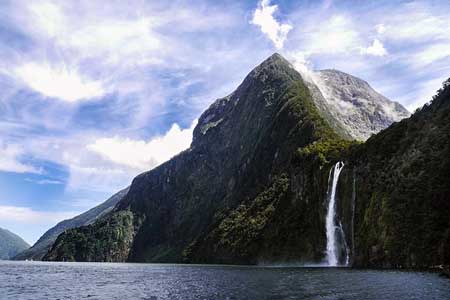 Milford Sound is a fiord in the southwest of New Zealand's South Island. It's known for towering Mitre Peak, plus rainforests and waterfalls like Stirling and Bowen falls, which plummet down its sheer sides. The fiord is home to fur seal colonies, penguins and dolphins.
Sometimes called 'the Sound of Silence', there is a cloistered serenity within Doubtful Sound. The fiord is rich in flora and fauna, New Zealand Fur Seals and Fiordland Crested Penguins can be seen on many of the small islets at the entrance of the fiord. At 421 metres deep, Doubtful is the deepest of the fiords and is long and winding with three distinct 'arms' and several outstanding waterfalls in the area from Deep Cove to the open ocean, a distance of around 40.4 kilometres.
Dusky Sound is the largest fiord in New Zealand, which includes several large islands. The upper reaches of the sound are steep-sided, and the high precipitation of the region leads to hundreds of waterfalls cascading into the sound during the rainy season. Seals and dolphins are often sighted in the sound's waters and occasionally visited by whales.