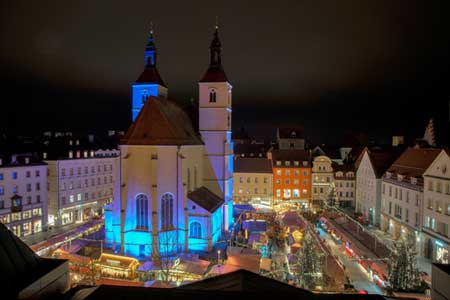 UNESCO city tour, Thurn and Taxis Christmas Market
-OR-
Tastes of Bavaria
-OR-
Walhalla bike tour
Regensburg is one of Germany's best preserved medieval cities, as well as a UNESCO World Heritage Site. Join a guided walking tour showcasing the city's architectural highlights, including the Old Town Hall and the Porta Praetoria, before visiting the Old Town Christmas Market.
As an alternate option, sample some of Bavaria's specialties—beer, sausage and pretzels.
Or bike to the base of Walhalla where there is a neoclassical white marble temple inspired by the Parthenon in Athens.
Later in the day, you'll be treated to one of Bavaria's most beautiful and romantic Christmas Markets at Thurn and Taxis, where you can watch artisans make their unique arts and crafts.